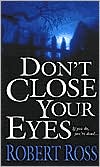 Don't Close Your Eyes by Robert Ross
Falls Church, Massachusetts is the sort of sleepy coastal town where the locals have lived for generations. A picture-postcard place. But there s another side to Falls Church ... a disturbing history of violence, hatred, and murder ...
Victoria Kennelly knows all about what lurks in Falls Church. She's never forgotten the night a fire killed her family and something beyond description claimed her childhood friend. The horror of that night drove her all the way to Boston and a new life. But now things are happening in Falls Church again. Bad things. And the only way Victoria can understand the ghosts of her own past is to go back where it all began ... to face the evil that lives in Falls Church.
My Rating 3 out of 5 Stars
This book started out slow but it did get better about 100 pages in. Kept your attention and made you want to turn the page to see what would happen next. A nice scary read.