On My Wishlist
is a fun weekly event hosted by
Book Chick City
and runs every Saturday. It's where I list all the books I desperately want but haven't actually bought yet. They can be old, new or forthcoming. It's also an event that you can join in with too.
Clarity - Kim Harrington
Synopsis
Clarity "Clare" Fern sees things. Things no one else can see. Things like stolen kisses and long-buried secrets. All she has to do is touch a certain object, and the visions come to her. It's a gift.
And a curse.
When a teenage girl is found murdered, Clare's ex-boyfriend wants her to help solve the case--but Clare is still furious at the cheating jerk. Then Clare's brother--who has supernatural gifts of his own--becomes the prime suspect, and Clare can no longer look away. Teaming up with Gabriel, the smoldering son of the new detective, Clare must venture into the depths of fear, revenge, and lust in order to track the killer. But will her sight fail her just when she needs it most?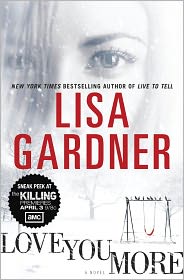 Love you More - Lisa Gardner
Synopsis
WHO DO YOU LOVE?
One question, a split-second decision, and Brian Darby lies dead on the kitchen floor. His wife, state police trooper Tessa Leoni, claims to have shot him in self-defense, and bears the bruises to back up her tale. For veteran detective D. D. Warren it should be an open-and-shut case. But where is their six-year-old daughter?
AND HOW FAR WOULD YOU GO . . .
As the homicide investigation ratchets into a frantic statewide search for a missing child, D. D. Warren must partner with former lover Bobby Dodge to break through the blue wall of police brotherhood, seeking to understand the inner workings of a trooper's mind while also unearthing family secrets. Would a trained police officer truly shoot her own husband? And would a mother harm her own child?
. . . TO SAVE HER?
For Tessa Leoni, the worst has not yet happened. She is walking a tightrope, with nowhere to turn, no one to trust, as the clock ticks down to a terrifying deadline. She has one goal in sight, and she will use every ounce of her training, every trick at her disposal, to do what must be done. No sacrifice is too great, no action unthinkable. A mother knows who she loves. And all others will be made to pay.